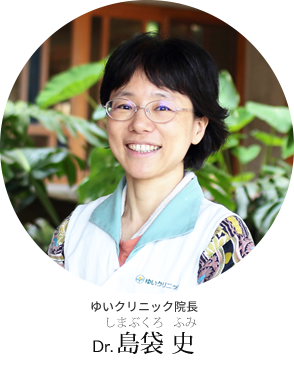 Director, Obstetrician & Gynecologist: Fumi Shimabukuro, M.D.
Pediatrician: Tadao Shimabukuro, M.D.
Yui Clinic was Established in November, 2011. Hi, I am Dr. Shimabukuro, the director of the clinic. Having experienced childbirth and breastfeeding to four children of our own, we've decided to provide a place where the parent-child relationship is treated as one of the top priorities, and a place where giving a birth can be done while the family feel at home. which a big hospital do not provide.
We believe that the mother who are giving a birth will have a better and secured feeling when she is taken good care of, and the delivery is done in a relaxing manner, and this environment provides different sense of security than the one that the big hospital gives.
Considering the new born babies' feeling, we thought that we should support a delivery where both the mother and child would feel comfortable. We wanted to provide the environment where they'd think "Oh, it's not like a hospital. It's more like our home!" That's why we opened this small clinic which has only 5 beds total.
This is what Yui Clinic is.
We want this place to be the one filled with happiness, and the one that can respond to their feeling that says "We want this bond for good."
Also, we want this place to be the one that supports the delivery and postnatal care that gives women an opportunity to grow meaningfully through the delivery, and to realize how cute little babies are and how joyous childcare can be.
That's our philosophy.
We closely hold the relationship with local community while communicating well with other neighboring hospitals. We will do the best we can to contribute to the mental and physical health of those who visit this clinic.
Dr. Fumi Shimabukuro
Biography:1970 Born in Tokyo, Japan
March 1989 Graduated from Wako Private High School (Machida, Tokyo)
April 1989 Entered University of the Ryukyus School of Medicine.
1995 Graduated from the Faculty of Medicine, University of the Ryukyus.
1996- Joined the Department of Obstetrics and Gynecology, Faculty of Medicine, University of the Ryukyus, and trained at Naha Prefectural Hospital, Nakagami Hospital, Naha Municipal Hospital, and other hospitals in the prefecture
2005- Worked in the Department of Obstetrics and Gynecology at Urasoe General Hospital, retired from Urasoe General Hospital in September 2011, opened Yui Clinic in November 2011.
Qualifications: Specialist in obstetrics and gynecology,  certified homeopathic physician, instructor of neonatal resuscitation